Great Crested Newt eDNA Survey
What is a Great Crested Newt eDNA Survey?
A Great Crested Newt eDNA Survey (environmental DNA survey) is a protected species survey method which can be undertaken to detect the presence or absence of Great Crested Newts on a development site. An eDNA survey involves the analysis of water samples (collected by an Ecologist, and analysed in a laboratory which has passed a proficiency testing scheme) to determine whether there is environmental DNA from Great Crested Newts present in an environment, such as a pond or other body of water.
If DNA fragments (such as mucous, skin or faeces) of the great crested newt are discovered within the eDNA sample, then it can be concluded that this species has been in contact with the pond. Following the detection of the species through use of this technique, further methods must be undertaken to assess the population size, and thereafter mitigation plans can be set in place.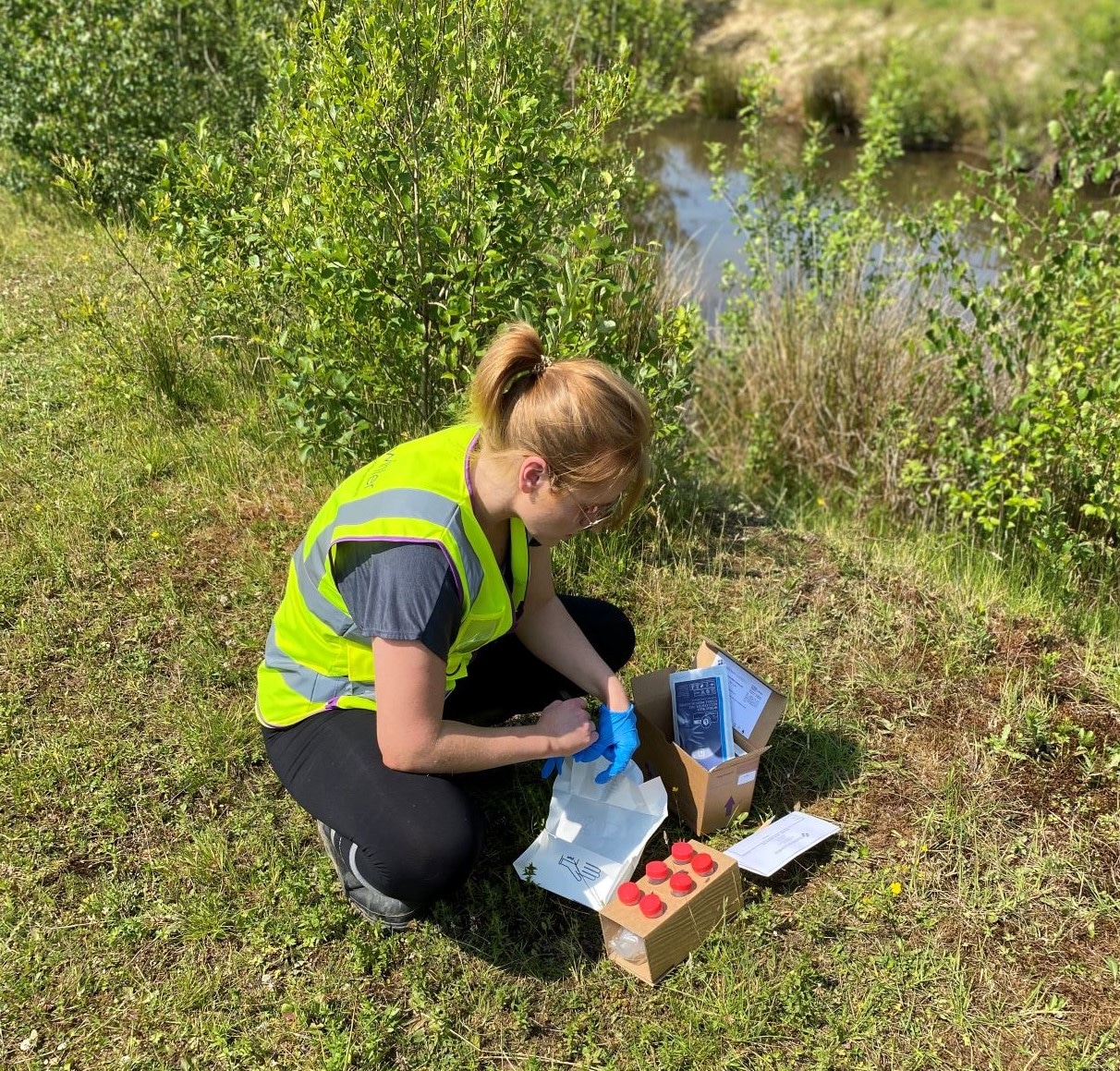 Why Would a Great Crested Newt Survey be Required?
The Great Crested Newt is a protected species, and therefore, it is an offence to intentionally harm this type of species, or its habitat. Surveys for great crested newts may be required for the planning application for a development project. This type of survey should always be carried out by a qualified and experienced Ecologist with a Natural England Great Crested Newt Licence.
A survey for great crested newts should be undertaken if there are suggestions, such as historical records, that the species may be present in the area of the development site. This species is likely to be present in areas where there is a pond within 500 meters of the development site, or if the site includes woodland, hedgerows, refuges, scrub, or grassland, and a survey will therefore be required.
If newts are unlikely to be present within an area, or if the planned development would have no impact on the GCN population, a survey may not be required.
Are there Benefits to Using a Great Crested Newt eDNA Survey Over Traditional Methods?
Testing for the presence of Great Crested Newts using a eDNA sample kits is often a more cost-effective method of detection as the initial survey is usually cheaper. However, if the eDNA analysis detects the presence of this species, the population size would need to be determined by carrying out a full survey, using traditional methods.
There has been some evidence to suggest that Great Crested Newt eDNA surveys are more accurate than more traditional methods, such as torching, and bottle-trapping however, more research is required to establish whether this is true.
When Should a Great Crested Newt eDNA survey be Undertaken?
Different survey techniques can be undertaken at different times throughout the year. Government guidance is available for Ecologists to determine the correct months to carry out each type of survey. An eDNA survey on Great Crested newts can be undertaken during the day from mid-April to late June. If this type of survey is carried out outside of the recommended timings, the results may not be accurate and will not be accepted by Natural England for a planning application.
How Can Collington Winter Assist?
Collington Winter are an experienced team of Ecologists, providing a highly professional great crested newt eDNA service to developers on all types of projects.  Laboratory turnaround on eDNA samples is typically 10 working days, but can be expedited under a FastTrack scheme where necessary. Our Ecology Director, Olivia Collington, holds a Natural England Great Crested Newt licence, and has worked with protected species across the UK, undertaking field surveys and writing scientific, readable reports for submission at planning.
We adopt a pragmatic approach to all sites, working with clients to find solutions and develop relationships. With current offices located in Greater Manchester and Dumfries, the team are well served to work nationwide. Over the years, we have built strong relationships with key stakeholders across the UK.
Please get in touch with our Ecology Director Olivia Collington (Olivia.collington@collingtonwinter.co.uk) for more information on GCN surveys and mitigation. We also provide ecological appraisal and assessment services.
Registered Address
23 Bark Street East 
1st Floor
Bolton
BL1 2BQ